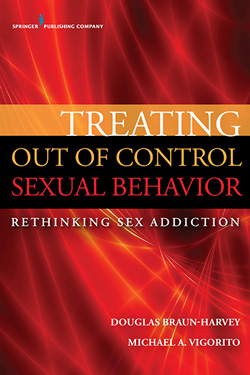 The Harvey Institute is proud to present Doug-Braun Harvey's latest book on OCSB. 
Winner of the 2018 SSTAR Health Professional Book Award.
We collaborate with individuals, agencies and organizations to develop and implement policies and practices that reflect each systems readiness for sexual health change. It is our belief that a vision for integrating sexual health practices will only be achieved through informed sexual health conversation and collaborative dialogue.
The Harvey Institute provides innovative teaching and sexuality training approaches designed to motivate professionals who are ready to contemplate how sexual health knowledge, principles and conversation skills will enhance their confidence and ability to integrate essential sexual health information within their professional services, practices and programming.
The Harvey Institute provides assessment, individual and group therapy for men of all sexual orientations concerned about their consensual out of control sexual behavior (OCSB).