Interviews & Presentations
Connective Therapy Collective
Martha Kauppi – Institute for Relational Intimacy
Clinton Powers Interviews Doug Braun-Harvey and Michael Vigorito
The Missing Link: HIV and Sexual Health Conversation
Podcasts / Audio Only Interviews
Sexual Health with Doug Braun-Harvey
Sexual health author, trainer and psychotherapist Douglas Braun-Harvey bridges sexual and mental health and facilitates organizational change. He teaches and trains nationally and internationally linking sexual health principles within drug and alcohol treatment, group psychotherapy, HIV prevention and treatment, and child maltreatment. https://www.theharveyinstitute.com
The 6 Principles of Sexual Health in the Context of Mormonism
OCSB – It's Not About the Sex
In this informative podcast, we welcome San Diego-based sexual health author, trainer, and psychotherapist, Douglas Braun-Harvey. His recent book "Treating Out of Control Sexual Behavior: Rethinking Sex Addiction" sets the stage for a lively discussion about his sexual health model. Braun-Harvey offers us easy-to-understand ways of conceptualizing out of control sexual behaviors as a sexual health problem and not a disease or addiction. Tune in for this very educational and articulate conversation.
The Erotic Philosopher – Rethinking Sex Addiction – with Doug Braun-Harvey
Doug Braun-Harvey: The Sexual Lives of Men
"The erotic is expected to be sacrificed in the name of these cultural narratives," says psychotherapist Doug Braun-Harvey. "And that's a big conflict." As a certified sex therapist, Braun-Harvey has focused on helping men with out-of-control sexual behavior or with what feel like uncontrollable urges. He believes that we shouldn't look at sexual behavior as a disease or an addiction. And that oftentimes, a man's perceived dysregulated sexual behavior is an attempt to solve an issue with deeper roots. Braun-Harvey explains how erotic conflicts arise in relationships—and how to work through them. He also makes a case for reframing pornography: Let's start by calling it sexual imagery, he says. Ultimately, his work lies in helping men express themselves sexually in a way that doesn't feel out of control and that allows them to keep their agreements with themselves and others.
"Therapists and Sexual Health" Sex Talk with Erica
"Out of Control Sexual Behavior" – Better Sex Podcast
My guest, the sexuality educator, author, trainer, and psychotherapist Doug Braun Harvey is here to share his knowledge on an important distinction in the sexual health realm: Out of Control Sexual Behavior (OCSB). Within this interview, there are discussions about classifications of sexual health, advice for psychotherapists on how to let patients present their own vision of sexual health, and an overall fruitful discussion on the nuances of the field.
Spoken eloquently and drawing from his wide experience in the field, Doug Braun-Harvey makes this a must-listen.
"Out of Control Sexual Behavior and Sex Addiction" Sex Smart with Dr. Joe Kort
Addiction + The Six Principles of Sexual Health
had the pleasure of seeing Doug Braun-Harvey speak at Esther Perel's event in NYC last November. His energy, authenticity and approach to sexual health lit something up inside of me.
Because of our upcoming podcast recording at SXSW focusing on Making Disclosure Sexy I knew I wanted to feature this brilliant, loving and powerful man for all of you to experience.
Join us as we have a dynamic conversation about addiction, sexuality, the power of learning and facilitating sexual health conversations, consent and pleasure on Episode 107 of Ignite Intimacy!!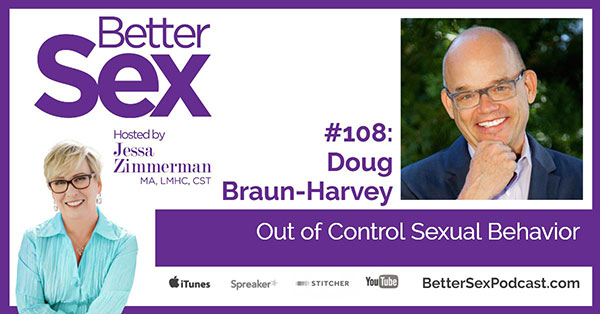 The Better Sex Podcast #108
Intimate Judaism: A Jewish Approach to Intimacy, Sexuality, and Relationships
Tim Norton – Hard Conversations
On Listening: with Doug-Braun Harvey
Smart Sex, Smart Love with Dr Joe Kort
Goopfellas: The Sexual Lives of Men
Sex Talk with Erika Miley