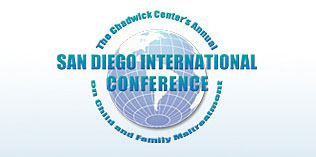 32nd Annual San Diego International Conference on Child & Family Maltreatment
ENVISIONING A WORLD OF SEXUAL HEALTH FOR ALL CHILDREN
January 28, 2018 - February 2, 2018
San Diego, CA
Institute B – The Importance of Sexual Health Conversations in Trauma Treatment and Child Welfare Sunday, January 28th, 2018
Presented by The Harvey Institute & Chadwick Center for Children and Families
Children and youth who are seeking trauma treatment have often already experienced significant negative consequences as a result of a sexual experience. Meanwhile we know that children and youth in foster care have disproportionally higher rates of unplanned or unwanted pregnancy, HIV, sexually transmitted infections, and non-consensual or exploitative sexual experiences. We in the United States rarely talk about sex with children and youth unless and until a negative outcome has occurred like an STI, an unwanted pregnancy or a sexual assault. These conversations often focus exclusively on abstinence, protection, or processing of the trauma narrative but seldom include how to create and build a vision of sexual health.
Limited to 80 participants. 
R18b – ENVISIONING A WORLD OF SEXUAL HEALTH FOR ALL CHILDREN
Mini-Plenary Friday February 2, 2017
Early childhood trauma can significantly impact the creation and development of one's sexual health. Trauma treatment has historically focused almost exclusively on identifying and exploring the hurt and harm caused by trauma and interpersonal violence. Left unspoken and unprocessed, however, is how one creates a future of "sexual health" when one's past is founded on a basis of sexual harm. In this workshop participants will be encouraged to utilize a sexual health approach as an ally for successful trauma assessment, treatment and child well-being. By incorporating the principles of sexual health, trauma treatment professionals will uncover sexual attitudes and taboos that are barriers for attaining sexual health knowledge. This workshop will provide a map for increasing one's comfort, willingness and knowledge to initiate and facilitate sexual health conversations. Six fundamentals of sexual health will be proposed that can serve as a treatment frame and guide for sexual health conversations with individuals, couples, and families.