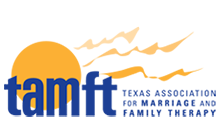 Sex, Drugs, and MFTs
44th Annual TAMFT Conference and Experience
February 21, 2018 - February 24, 2018
Irving, TX
An All-Star Lineup including Esther Perel, Doug Braun-Harvey, Susan Ford Bales, and Kimberly Shappley
A Pre-Conference Institute with the opportunity to obtain:  SBIRT certification, 3 hours of Ethics, or 3 hours of Supervisor Refresher CEUs.
More than 35 workshops and events developed and selected to serve as sources of knowledge, inspiration and connection.
9 hours of Ethics workshops in addition to the Pre-Conference Institute
Wonderful opportunities to network and connect with the best vendors in our field.
And SO MUCH MORE!
Sexual Health Conversations: A new ally for individual, couples, group and family therapy
Today's clients expect therapists to initiate informed, confident and relevant discussions about sex, yet many therapists unwittingly hinder this expectation. Mental health practitioners, meanwhile – including Psychiatrists, Psychologists, Social Workers, Family Therapists and Drug and Alcohol Treatment Counselors – often don't have mentoring or training that would allow them to talk confidently about sex. 
Too often, the solution to this gap is to avoid the sexual health conversation altogether or refer clients to the local sex expert. Unfortunately, this often means that the conversation never happens or, worse, that the client begins to believe that sex only gets talked about when there is a crisis, or when someone has been hurt. When the therapist initiates the conversation, however, they are modeling that sex is important to the client's overall well-being. 
This workshop will build confidence and willingness to collaborate with clients in sexual health conversations. 
Rethinking Sex Addiction: Sexual Health Solutions When Sex is Out of Control
Despite over three decades of study, therapists remain divided about the best approach for dealing with out of control sexual behavior (OCSB) with couples and individual clients. Is it a process addiction, a distinct psychosexual disorder or is there another non-pathology-oriented alternative for assessment and treatment?
Mr. Braun-Harvey will present the sexual health pathway model from his recent book "Treating Out of Control Sexual Behavior: Rethinking Sex Addiction". Participants will learn to work with sexual behavior problems based upon sexual health conversation practice that suspend sociocultural judgments, increase willingness and comfort to initiate sexual health conversations, and talk clearly and directly about each client's unique clinical picture for defining their personal vision of sexual health.